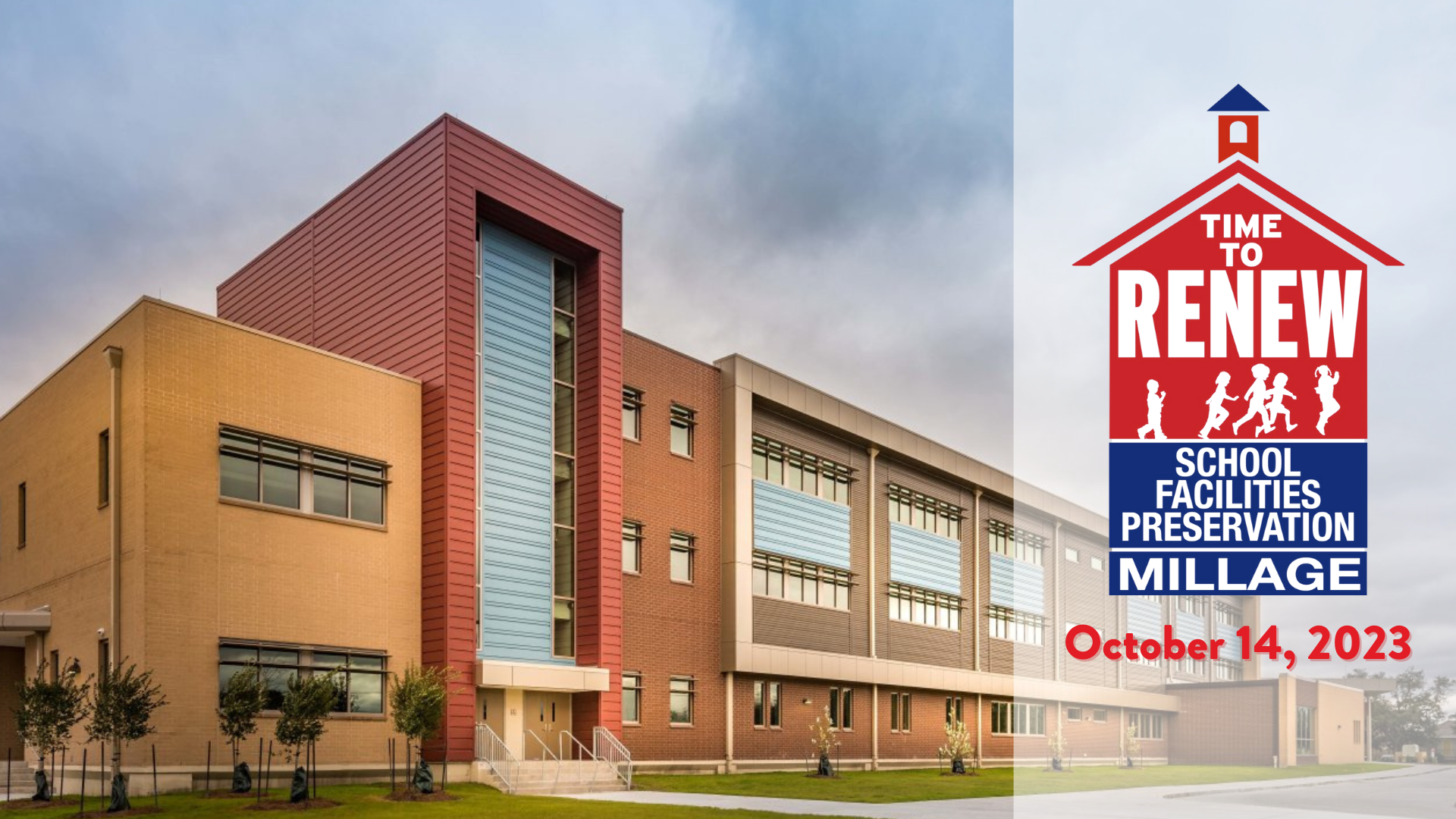 A Journey Through Time- School Facilities Millage Renewal
Background:
In 2005, the aftermath of Hurricane Katrina left New Orleans with 110 out of 126 public schools severely damaged or destroyed. Following this devastation, a collaborative effort supported by FEMA resulted in the construction of 32 new schools, renovation of 17 schools, refurbishment of 31 schools, and preservation of 9 schools, beginning in 2008.
As time passed, questions arose about the future of these 89 schools and how to prevent their deterioration. In December 2014, the community's resounding approval gave rise to the School Facilities Preservation Millage - a way to guarantee the continuous maintenance and upkeep of school buildings.. This marked a turning point, ushering in a new era with the promise of a brighter future for students.
Millage Renewal
Ensuring Continued Support:
Fast forward to April 2023, a significant announcement came during a school board meeting – the Notice of Intent to Hold an election on October 14, 2023. The objective was clear: to involve everyone in shaping the path ahead as the existing School Facilities Preservation Millage was set to expire in 2024.
This millage renewal stands at a crossroads, poised not to bid farewell but to renew its commitment. The central goal is maintaining and upkeeping school buildings to ensure high-quality learning environments. This renewal is not about introducing a new tax, but rather about recommitting to students' educational well-being.
The call is to extend the renewal for 20 years, with a purpose. This extension is vital because between 2010 and 2020, a significant number of schools underwent makeovers, presenting both opportunities and challenges. A 20-year plan is strategically advantageous, preventing a concentrated influx of investments and ensuring consistent progress.
Looking ahead between 2025 to 2045, upcoming challenges like roof replacements and HVAC updates for newer schools can be anticipated. A 20-year renewal secures a trajectory of progress, safeguarding schools' functionality and grandeur.
Lessons Learned:
Reflecting on the past, lessons emerged. Since 2014, only 39% of millage funds were allocated to facilities due to prior bond debts. Legislation limited the use of facility funds for emergencies until Fiscal Year 2021. During 2015-2021, $20 million were allocated to address emergencies, from hurricanes to fires. In 2021, the payoff of previous bond debt opened new avenues for investment.
Amidst funding challenges, planning persisted. Between 2019 and 2020, a 10-year capital plan was devised for each school facility. From FY 21-22, the district greenlit over $50 million in capital projects. The monumental $1.8 billion School Facilities Master Plan reconstruction program was successfully carried out in collaboration with the Recovery School District.
Use of Funds for Proposed 20-Year Millage Renewal
Sustaining School Facilities Excellence:
With the spotlight shifting towards the future, a 20-year renewal is estimated to gather $420 million for investments in existing school facilities. This collaborative effort combines sales tax, totaling approximately $300 million over two decades, with millage funds. The result is an impressive $720 million budget over 20 years.
The forthcoming 20-year millage renewal funds, if approved, will be allocated as follows:
$250-$300 million - Remaining needs of the 10-year plan
$200 million - Allocated for unplanned emergencies
$250 million - Expected repairs for new facilities (2025-2045)
These funds form the foundation for extending 10-year capital plans across all schools, addressing unforeseen emergencies, and facilitating replacements in schools constructed post-Katrina.
In essence, this journey encapsulates a narrative of commitment, progress, and an unyielding pursuit of providing exceptional learning environments for future generations of scholars.