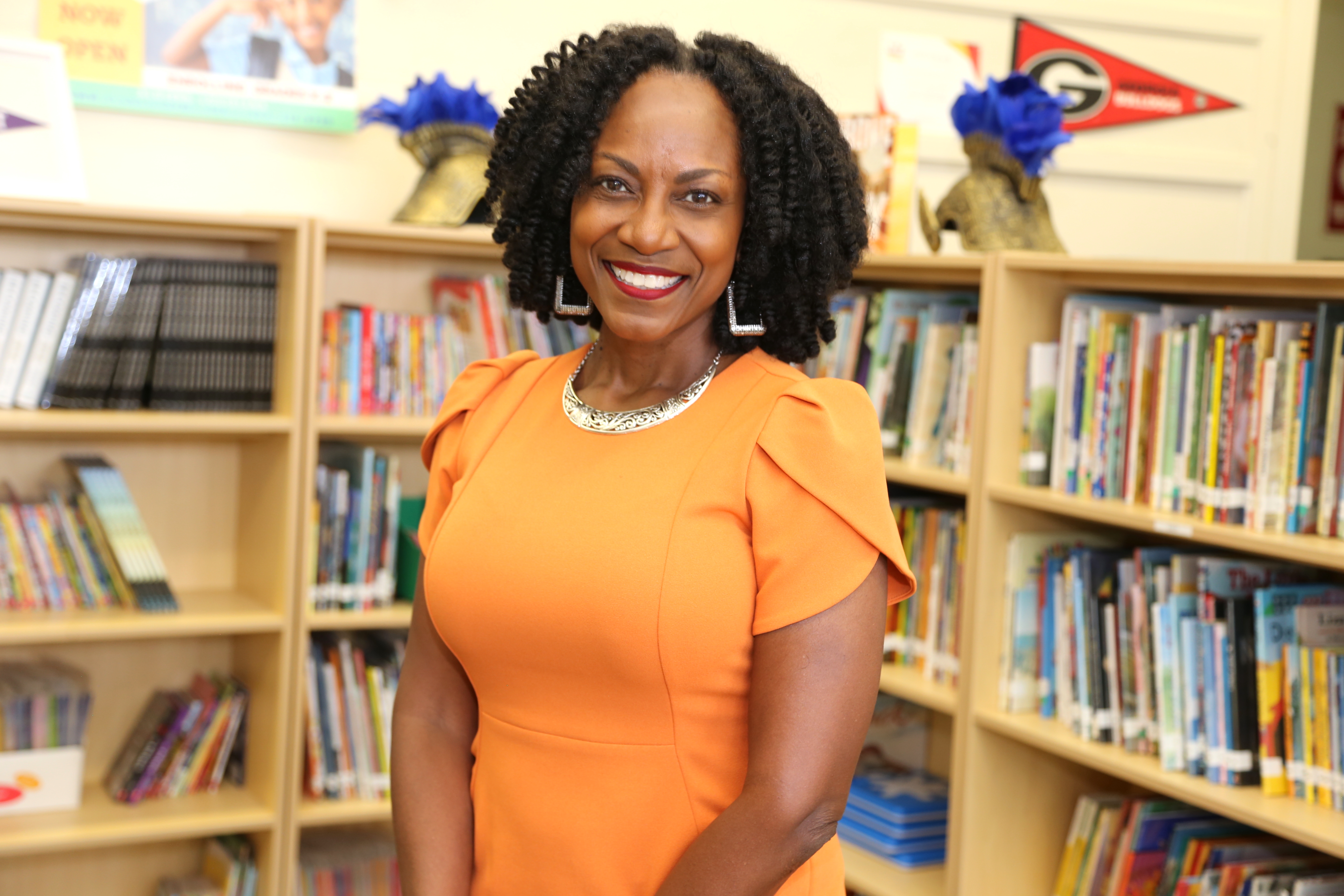 Dr. Avis Williams
Superintendent of Schools
Contact Superintendent:
Director of Administrative Support:

Martresaca Jackson-Howard
Speakers Bureau:

To request the Superintendent for a speaking engagement, click here.
In March 2022, Dr. Avis Williams was selected to serve as superintendent of the Nola Public Schools. She is the first woman to be permanently appointed to this role. Her core values are Equity, Excellence and Joy and she is known for her ability to drive innovation while improving organizational culture and climate.
An award-winning educator and sought-after speaker, she is a native of Salisbury, NC. A product of poverty, Williams dreamed of being a teacher from an early age. As a first generation 4-year college student, she followed the path of her older siblings and joined the Army right after high school. While in the Army, she was stationed at Fort Jackson, SC, Yongsan, Korea, and Redstone Arsenal in Huntsville, AL. Before becoming an educator, Williams owned a fitness center and worked as a personal trainer. She was a popular local personality on T.V. and radio promoting fitness and wellness.
Determined to become a teacher, she worked fulltime as a personal trainer while putting herself through community college and earned her undergraduate degree from Athens State University. She went on to earn a master's degrees from Alabama A&M and Jacksonville State Universities, education specialist degree and her doctorate from the University of Alabama.
During her first two years as a teacher beginning in 1998, she taught Advanced Placement English and Physical Education and coached dance team and track. She later taught English Composition and English inclusion classes where she focused on closing the achievement gap in reading proficiency and writing. Dr. Williams has had the unique privilege to serve as an elementary, middle and high school principal, giving her a full perspective of what it takes to lead effectively at all levels
In 2013, she sought district roles focused on improving curriculum and instruction for all scholars. As the executive director of secondary curriculum and instruction in Greensboro, North Carolina she led instruction for over 60 schools, served on the Equity Leadership Team and led strategic planning teams. Prior to moving to Selma, she was the assistant superintendent for curriculum and instruction in Tuscaloosa City Schools in Alabama where she led the development of the instructional framework and helped implement a $160M capitol project.
Prior to her historic appointment to lead Nola Public Schools, Dr. Williams served as superintendent of Historic Selma City Schools in Selma, AL for five years. When Williams was hired to lead Selma City Schools, the district was in state intervention. Under her leadership, the district was released from intervention and is now recognized as the only district in the state to achieve the Tier II Performance Excellence Award based on the Baldrige Framework. Through robust strategic planning and community engagement, academic and cultural outcomes improved significantly.
An avid writer, Williams is the author of a children's chapter book, wrote weekly newspaper articles and has authored numerous pieces for state and national publications. Her joy comes from spending time with her daughter Bree, running, writing and being a "dog mom" to her standard poodles, CoCo and Butterscotch. Never forgetting her roots, she enjoys giving back to her community and working with families in need.
A graduate of Leadership Alabama Class XXIX, she is a Rotarian, president of the ASCD board of directors, a member of Delta Sigma Theta, Inc., Alabama Alliance of Black School Educators (AL ABSE) and the Selma Chapter of the Links, Inc. Williams has created and delivered dozens of professional development and motivational sessions at national conferences and to churches, student groups, educators and leaders across the U.S. Her areas of expertise include educating children in poverty, culture transformation, strategic planning, instructional leadership and providing educational equity.
Dr. Williams is a member of Cohort 6 of Future Chiefs for Change. Her awards include the Marbury Technology Innovation Award by the AL State Department of Education in 2011 as a principal and in 2019 as superintendent, the 2020 AL Black School Educators Superintendent of the Year, a 2019 finalist for Alabama State Superintendent of the Year, and one of two 2022 superintendent finalists for AASA's Women in School Leadership Award. The University of Alabama selected her for the 2021 Harold L. Bishop Alumni Award of Leaders and the National School Public Relations Association identified her as one of the 2022 Superintendents to Watch for her dynamic leadership with strong communication at its core. With a heart to serve, Dr. Avis Williams is an optimistic, strategic, visionary leader determined to provide a high quality education to all scholars in her charge.
Notable Accomplishments
As can be seen below, New Orleans public schools have come a long way, but there is still a very long way to go.
| | | |
| --- | --- | --- |
| | OPSB March, 2015 | OPSB March, 2019 |
| Local Control | Most schools under RSD | Unified under local control2 |
| Leadership | 2+ years with interim supt. | 4 years of stability/success3,4 |
| # of Schools | ~20 schools overseen/operated | ~80 schools being overseen5 |
| District Office Culture | Siloed divisions w/ limited all-staff collaboration | Service oriented culture emphasizing collaboration6 |
| Public Engagement | Little systematic engagement with public/media/stakeholders | Robust social media, press, & public engagement7 |
| Supt Advisory Councils | Limited systematic stakeholder voice in decision making | 3 standing councils review plans & advise on issues8 |
| Budget and Finance | Budget opaque | More transparency9, monthly public reporting10, AA- credit11, |
| Transparency | Limited online resources; difficult to search for public info | Implemented BoardDocs12 & created online, public records portal13 |
| Per Pupil $ Equity | Non-differentiated $ formula for special needs students | 5-tier formula; more $ follows students w/ special needs14 |
| Accountability & Supports | Siloed school accountability & support efforts | Integrated and expanded accountability & supports,15,16 |
| Juvenile Justice | Schools at YSC & OJC inadequate/non-compliant | New Travis Hill Schools have great results17 |
| Facilities | Major school buildings offline | Major buildings back online18 |
| Board Room | Meetings at Mc35, w/ committees at central office | Modern, permanent board room at central office19 |
| Classroom Funding | Stagnated classroom funding | $10 Million in increased funding for classrooms20 |