Dr. Henderson Lewis, Jr.
Superintendent of Schools
Contact Superintendent:
Dr. Henderson Lewis, Jr. has served as the superintendent of NOLA Public Schools since March 18, 2015, becoming one of the youngest and longest tenured leaders in the 180-year history of public education in New Orleans. With over 25 years of educational experience as a teacher, mentor, assistant principal, instructional coach, curriculum expert, principal, and school district leader, Superintendent Lewis brings a unique, classroom focused perspective to the table.
Before joining the District, Dr. Lewis worked for the Algiers Charter Schools Association for six years, serving as the founding principal at Algiers Technology Academy. He also taught for seven years at neighboring St. Bernard Parish Public Schools and represented District 9 on the St. Bernard Parish Public School Board for 11 years.
Dr. Lewis then went on to become a celebrated superintendent for East Feliciana Parish, which is just north of Baton Rouge. Under his leadership, the district was recognized by the Louisiana Department of Education as 2nd in the state for elementary student academic growth.
Throughout his tenure at NOLA-PS, he has not wavered from his mission as a citywide regulator of schools, a protector of family and student rights, and a thoughtful steward of public resources.
Superintendent Lewis has been at the helm of NOLA-PS during a pivotal time in the school system's history. He oversaw the 2018 unification of public schools in New Orleans with those schools run by the state of Louisiana. NOLA-PS now has 76 schools under the oversight of the Orleans Parish School Board.
Thanks to his team and his leadership, New Orleans' community of schools is better structured today than ever before. NOLA-PS established an accountability framework that holds charter schools to high standards. During his tenure, Dr. Lewis has worked to add strong school options to the portfolio including new and innovative school models, transformations, and replication of successful school models to provide the best possible options for students.
During his time as superintendent, he faced the challenges brought on by the COVID-19 pandemic. He helped NOLA-PS lead the way nationally by building partnerships, using data to drive decisions, and leading NOLA Public Schools through the COVID-19 pandemic. That work has helped NOLA PS lead when it came to reopening schools with adequate technology, gaining access to COVID testing, and securing access to vaccines. Dr. Lewis also coordinated the school commitment across the District to add the COVID-19 Vaccine to the list of required vaccinations for students 5 and up.
His dedication to promoting equality and equity led to the renaming of 21 school buildings in 2021 to separate the school system of today from the dubious honors bestowed in the past to slaveholders and segregation sympathizers. He also implemented an equity initiative within the District to continue to advance public education as a right for all children, no matter their race, gender, or economic position.
At the heart of Dr. Lewis' work remains his dedication to the well-being and high-quality education of every child, every day.
Honors and Awards
Chiefs for Change inductee 2018
Drum Major for Education (Friends of King)
2018 "Man of Honor" (Beacon Light community)
2015-2018 Distinguished Board Member (Louisiana School Boards Association)
2011-2014 Distinguished Board Member (Louisiana School Boards Association)
Superintendent of NOLA Public Schools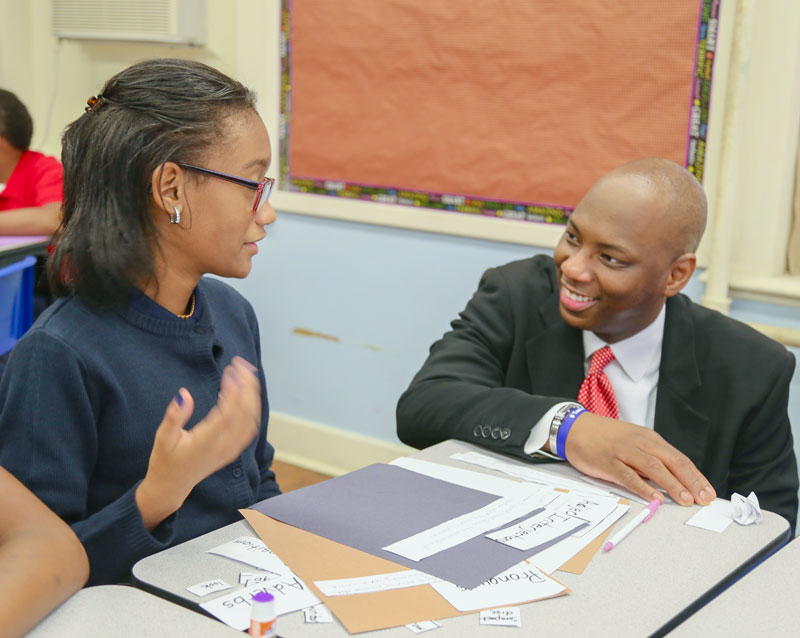 Dr. Lewis' tenure as Superintendent in New Orleans has been very consequential and largely defined by the historic, unprecedented return to local control of about sixty (~60) charter schools formerly overseen by the State of Louisiana. But unification of New Orleans public schools under the local control of the OPSB is just part of how Dr. Lewis has fundamentally transformed the district.

Indeed, the role of the district has changed, but has a no less important job as a citywide regulator of schools, a protector of family and student rights, and a thoughtful steward of public resources.

Furthermore, New Orleans' system of schools is better structured today than ever before. Our kids are learning and in 2018, nearly 80% of district schools scored an 'A' or 'B' for progress1. But still, too many of our children are not receiving the educational supports and services they need to succeed in school and life.
Notable Accomplishments
As can be seen below, New Orleans public schools have come a long way, but there is still a very long way to go.
| | | |
| --- | --- | --- |
| | OPSB March, 2015 | OPSB March, 2019 |
| Local Control | Most schools under RSD | Unified under local control2 |
| Leadership | 2+ years with interim supt. | 4 years of stability/success3,4 |
| # of Schools | ~20 schools overseen/operated | ~80 schools being overseen5 |
| District Office Culture | Siloed divisions w/ limited all-staff collaboration | Service oriented culture emphasizing collaboration6 |
| Public Engagement | Little systematic engagement with public/media/stakeholders | Robust social media, press, & public engagement7 |
| Supt Advisory Councils | Limited systematic stakeholder voice in decision making | 3 standing councils review plans & advise on issues8 |
| Budget and Finance | Budget opaque | More transparency9, monthly public reporting10, AA- credit11, |
| Transparency | Limited online resources; difficult to search for public info | Implemented BoardDocs12 & created online, public records portal13 |
| Per Pupil $ Equity | Non-differentiated $ formula for special needs students | 5-tier formula; more $ follows students w/ special needs14 |
| Accountability & Supports | Siloed school accountability & support efforts | Integrated and expanded accountability & supports,15,16 |
| Juvenile Justice | Schools at YSC & OJC inadequate/non-compliant | New Travis Hill Schools have great results17 |
| Facilities | Major school buildings offline | Major buildings back online18 |
| Board Room | Meetings at Mc35, w/ committees at central office | Modern, permanent board room at central office19 |
| Classroom Funding | Stagnated classroom funding | $10 Million in increased funding for classrooms20 |