The NOLA Public Schools Roadmap to Reopening Schools is a set of operational expectations guiding the citywide reopening of schools in response to the challenges COVID-19 continues to present to our school community. This plan provides a phased approach with clear standards for schools to adhere to as they reopen to serve students and staff. This approach is built upon many weeks of engagement and discussion with health experts, educators, and essential stakeholders and the recommendations of health agencies. The Roadmap is aligned with the reopening guidelines provided by our state and federal leaders and is designed with the following four guiding priorities:
The health and safety of students, staff, and families

Maximize in-person student learning

Flexibility in educational options

Citywide consistency
This plan identifies specific actions—rooted in data and best practices identified by health experts—that school staff, students, and families will need to undertake daily in order to safely resume in-person instruction and critical services supporting social and emotional health. This coming school year will be unlike any other and it is essential that district staff, school leaders, teachers, students, families, and the community commit to working together to build a culture of safety and care for one another as school buildings open. As we continue to learn more about this pandemic and the best practices needed to mitigate risks associated with COVID-19, NOLA-PS will provide ongoing updates to this plan.


We Want to Hear From You! Listening to our community is a key part of charting the path forward as work with schools to implement the Roadmap. Please share your questions and provide your feedback to help us better support our school community this coming school year.

Share your feedback here.
*If you have questions about the Roadmap to Reopen, please call us at 504-304-3520.*


*NEW* Additional Resources for Parents
Click here to access Parent Resources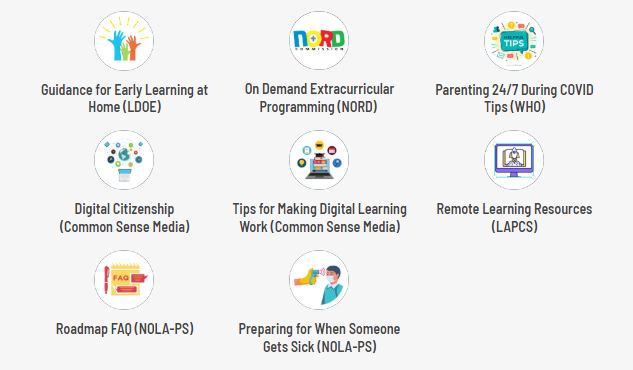 Supplemental Guidance
The roadmap's Supplemental Guidance is one of several updates from NOLA Public Schools about fall reopening, with more resources on a variety of reopening topics. NOLA Public Schools, in coordination with Children's' Hospital of New Orleans, will also provide virtual training opportunities to teachers and other school support staff in the month of July. We also know we must nurture the whole child and support the well-being of our school staff as we move through this coming school year.

*NEW* Click here to access the Roadmap to Reopening Supplemental Guidance