Details

Category: News
The Greater New Orleans Foundation released New Orleans School Partnership Study: What Our Students Need and How We Can Help. In partnership with NOLA Public Schools and funding support from the W.K. Kellogg Foundation and Baptist Community Ministries, the new report identifies some of our students' most urgent needs and a roadmap for how schools and community partners can increase resources, coordination, partnership, and investments to improve student support and performance. View full report here >>

Details

Category: News
Today (Nov. 8), the Louisiana Department of Education (LDOE) released the 2017-2018 School Performance Scores (SPS), school letter grades, and progress index scores. Scores revealed that nearly 80 percent of district schools received a progress index score of "A" or "B" for the 2017- 2018 school year.
"This year's School Performance Scores, particularly the newer Progress Index Score, reflect the hard work of our teachers and students in Orleans Parish. Progress is being made and we need to continue building from that foundation," said Orleans Parish School Board Superintendent of Schools Dr. Henderson Lewis, Jr. "This is a new day and a new district, and these scores will serve as the new baseline for our unified district."
Of the schools in the district, not including those that were recently closed or are alternative schools, 61 percent received a score of "C" or better.
"These gains are modest, but important because they tell us that we are headed in the right direction. We know that we still have a long way to go, but this board is committed to doing what is necessary for the students and families of our city," said OPSB President John A. Brown, Sr.
Details

Category: Announcements
NOLA Public Schools, in collaboration with community partners, recently launched a web-based resource guide designed to assist students with disabilities transitioning into life after their high school careers. The resource guide is a virtual substitute for NOLA-PS' third annual NOLA-PS Transition Resource Fair, which had to be canceled this year due to the COVID-19 public health crisis
.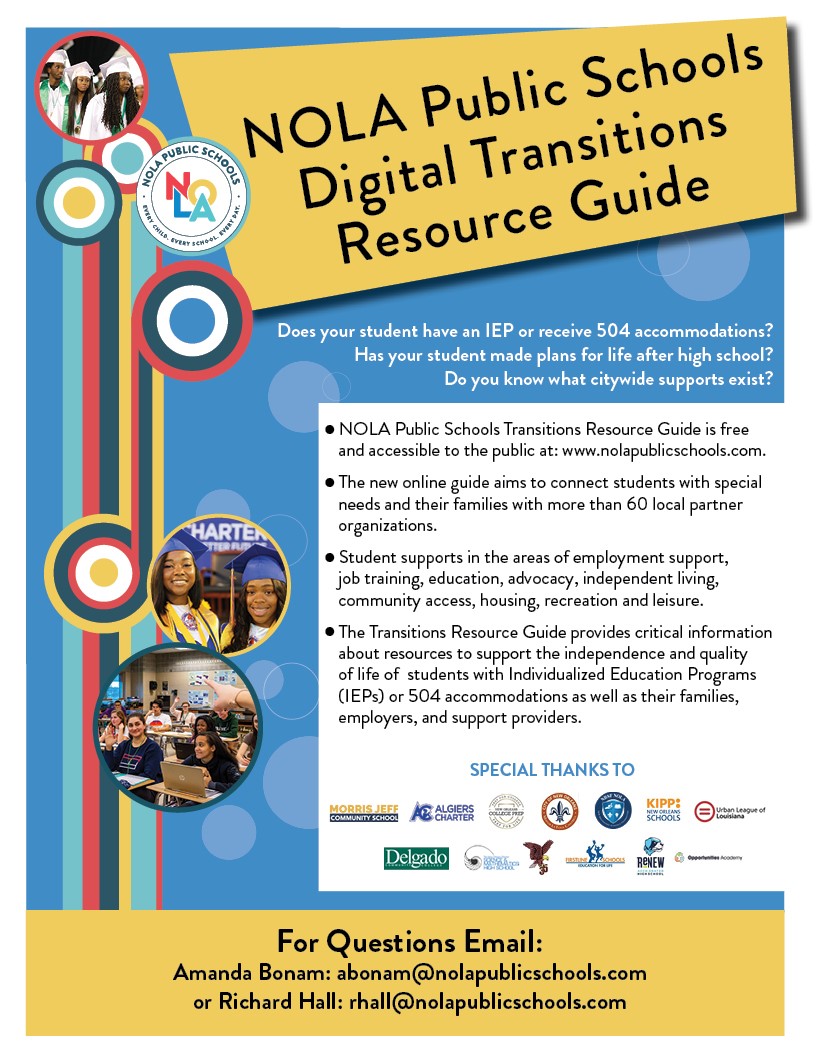 Details

Category: Announcements
As our community of schools grows and changes, NOLA Public Schools is committed to adapting in ways that best support our students. In this spirit, we will be updating the funding formula for schools, known as the District Level Funding Allocation (DFLA), to reflect the latest student demographics and educational needs ahead of the 2021-2022 and 2022-2023 school years. This is a regular process that can occur every two years and must be approved by the Orleans Parish School Board. We will provide several opportunities for public engagement, and we welcome suggestions, comments and questions from our community throughout this process. Please revisit nolapublicschools.com in the future for more information.
Details

Category: Announcements
NEW ORLEANS – (May 7, 2020) Due to the resignation of District 5 School Board Member Ben Kleban, which will be effective on June 15, 2020, the Orleans Parish School Board (OPSB) will receive Letters of Interest from qualified individuals seeking to fill the District 5 seat on an interim basis. To be a school board member the person must be at least 18 years old, a resident in Louisiana for the preceding two years and domiciled for the preceding year in the district to which he or she is being appointed. [La. R.S. 17:52(E)(1)].

Pursuant to OPSB Policy ABCDA and La. R.S. 18:602, OPSB has 20 days in which to fill the vacancy created by Mr. Kleban's resignation, or the Governor will appoint a person to fill the vacancy. The OPSB intends to appoint a qualified person to fill the vacant District 5 School Board seat on an interim basis from June 15, 2020 until the December 31, 2020 to fill the unexpired term of Ben Kleban.

All interested persons must submit a Letter of Interest by Tuesday, May 12, 2020, 12:00 noon. Letters of Interest should be addressed to Board President Ethan Ashley, and mailed to the OPSB Board Office, 2401 Westbend Parkway, Suite 5055, New Orleans, Louisiana 70114 or emailed to the OPSB Board Counsel at swilliams@fishmanhaygood.com. To avoid any possible delays associated with mail delivery, submission by email is preferred.

In addition to the Letter of Interest, all persons must also submit a resume' and an Affidavit of Qualifications, [consistent with La. R.S. 17:52(E)(1)]. A copy of a current Louisiana Driver's License (or other official Louisiana identification) must be attached. The following additional documents must be attached to the Affidavit of Qualifications to demonstrate the required residency and domicile: (1) copy of lease demonstrating residency and domicile in the District or a copy of the homestead exemption claimed by the applicant; (2) copy of a utility bill bearing the applicant's name on the account; and (3) a copy of the applicant's voter registration card or other document indicating where the applicant is registered to vote.

OPSB also requests that applicants submit with their Letter of Interest a short Vision Statement responding to the following three questions: 1) What is your vision for public education in Orleans Parish? 2) What in your experience best qualifies you for this interim appointment? 3) What do you believe a "quality" school district looks like? 4) What are your top three priorities that you would like to address if you are selected?

For more information, please direct any questions to the OPSB Board Counsel at swilliams@fishmanhaygood.com.


### 
  
ABOUT NOLA PUBLIC SCHOOLS: NOLA Public Schools is the public school district for Orleans Parish, which includes the district's elected school board, known as the Orleans Parish School Board and the district's administration led by NOLA Public Schools Superintendent Dr. Henderson Lewis Jr. NOLA Public Schools currently oversees 78 public schools. For more information, visit www.nolapublicschools.com. For updates, follow NOLA Public Schools on Facebook @NOLAPublicSchools, Instagram @nolaps and Twitter @NOLAPSchools.

.

2401 Westbend Parkway
New Orleans, Louisiana 70114

Phone: 504-304-3520


Hotline Number for Parents
504-527-KIDS
School-based issues or concerns from parents

24-hour Hotline Number for Community
504-522-HELP
District based community concerns, feedback, & inquiries from school staff or community members