GUIDANCE UPDATE: ALL ARE REQUIRED TO WEAR FACE MASKS IN SCHOOL FACILITIES, RESTRICT ASSEMBLY SPACE USE AND UPDATE COVID-19 CASE PROCEDURES, EFFECTIVE 7/30/2021
NOLA Public Schools takes the health of our students, educators, and staff seriously, and we are committed to doing everything we can to ensure the safety of our district and schools. Visit our COVID Guidance for the 2021-2022 School Year to review our latest guidelines to best keep our community safe.
NOLA-PS has issued a requirement for all students 5 years and older to be vaccinated by Feb. 1, 2022 to keep classrooms safe and to limit disruptions to in-person learning.

To help provide easy access to the vaccine, NOLA-PS, in partnership with local health partners, will be continuing to offer vaccination opportunities to eligible students. Click here for the list of sites.
Families with medically vulnerable students or circumstances can apply for distance learning options by submitting this COVID Eligibility Form directly to their schools.

Several of our schools are serving as community feeding centers at this time. Visit our COVID-19 Child Nutrition page for the latest list of schools and hours of operation.

Check out our COVID-19 Community Resource Center for important information and resources for families and community members.


To view our COVID Tracker for the 2021-2022 school year, please visit this link. These data now include the number of weekly tests administered among our school community, as well as the weekly positive test rate.
To view our archived COVID Tracker for the 2020-2021 school year, please visit this link.
For further information about how we reopened schools during the 2020-2021 school year, read our Roadmap to Reopening.
][
ACCESS TO COVID TESTING
Regular COVID testing is our strongest resource to keep COVID-19 from gaining a foothold in our schools. Testing allows schools to track the virus' impact, gives students and staff who test positive the immediate opportunity to self-isolate, and informs school leaders when quarantine measures are necessary.
Contact your schools for testing opportunities, or speak with a team member at NOLA-PS at 504-304-3520 or 504-527-KIDS.
NOLA-PS COVID TRACKER
With the advice and aid of our schools and medical advisors, we are tracking the COVID-10 pandemic among our students and staff. We will update our COVID Tracker every Monday by 4 p.m. throughout the school year. You can review the latest weekly positive COVID cases and quarantines reported by each school here: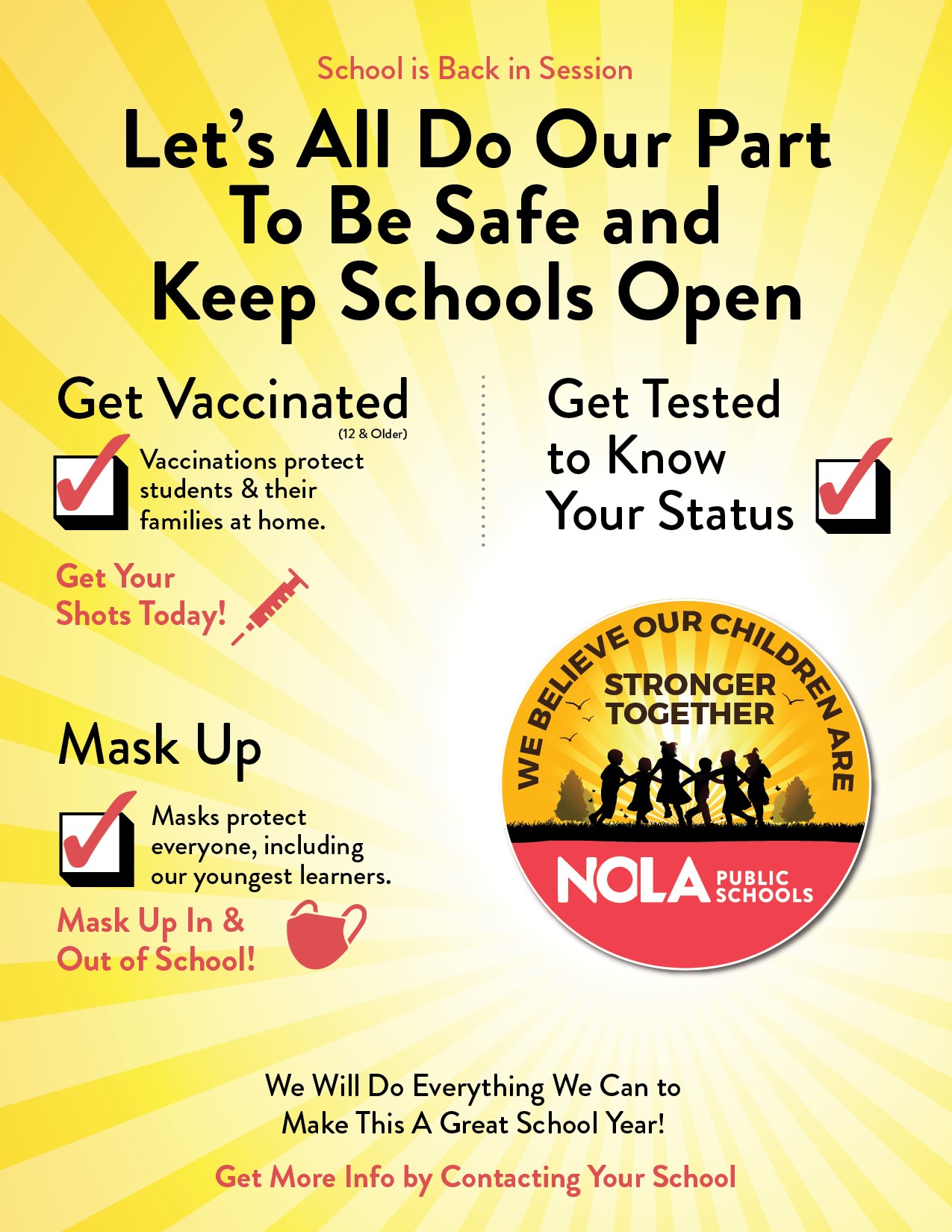 Mayor and Superintendent Back To School Message
School is back in session for the 2021-2022 School Year. The students of NOLA Public Schools are back in the classroom, where we all know they learn best with their teachers and their friends.
The mission of our school community is to keep all students and educators safe so that they can continue to learn and teach in-person. Being in the classroom will help them succeed academically and help them find joy in human interaction: laughing, helping each other study, and participating in sports, bands, and other extracurricular activities. In-person learning develops the whole child, academically, socially, and emotionally, and provides resources, such as hot meals and access to mental health and social services, that they may not have at home.
We have new tools this school year to keep COVID-19 at bay. We want to share those resources with you and offer guidance on how students and families can navigate this school year safely and successfully.
DISTANCE LEARNING OPTIONS
Schools have been instructed to provide distance learning options to students who must learn from home under quarantine for safety reasons.
Students with medical vulnerabilities should consult with their family physician and can use the following form (Distance Learning Medical Form) to apply for a distance learning option through their individual schools.
For more information, contact your schools. If you have additional questions, you can speak with a NOLA-PS team member at 504-304-3520 or 504-527-KIDS.