NEW ORLEANS – (May 14, 2020) – This evening New Orleans Public Schools (NOLA-PS) Superintendent of Schools Dr. Henderson Lewis, Jr. presented his recommendations on the Spring Charter Applications to the Orleans Parish School Board (OPSB). In total, two organizations received a recommendation to either approve or deny their application to begin a new school (Type 1 – New Start) or transform an existing charter school (Type 1 – Transformation). They are as follows: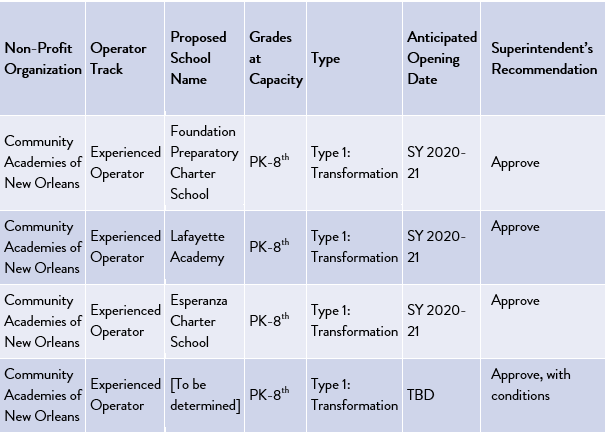 "Expanding our school programs that are doing well is how we continue to ensure the number of seats in quality schools continues to grow throughout the district. Making these decisions with regards to charter applications is a responsibility I take seriously," said Superintendent of Schools Dr. Henderson Lewis, Jr. "We are committed to seeing our top performing schools expand and to embrace exciting new school programs in our district."

Completed application materials and independent evaluator review documents are available online at https://nolapublicschools.com/schools/open-a-school.

"We require a high level of excellence from our operators and are excited to see some of these applications move forward," said Orleans Parish School Board President Ethan Ashley. "To that end, I want to thank everyone involved, from the applicant teams to our independent evaluators along with the NOLA-PS administration, for their tireless work to ensure our schools remain competitive in providing the best quality education to our students."

Spring 2020 Charter RFA Process
In January, the OPSB issued a Request for Applications (RFA) for the spring 2020 cycle. Applications undergo a rigorous evaluation that includes three committees: independent third party evaluation, internal committee of NOLA-PS staff, and a community committee comprised of the Superintendent's Parent, Teacher and Faith-Based Advisory Councils. All applicants had the opportunity to present their proposed school(s) to the OPSB Board Members and community during the public hearing that was held on, April 23, ahead of the May 2020 Orleans Parish School Board Business Meeting.


###
ABOUT NOLA PUBLIC SCHOOLS: NOLA Public Schools is the public school district for Orleans Parish, which includes the district's elected school board, known as the Orleans Parish School Board and the district's administration led by NOLA Public Schools Superintendent Dr. Henderson Lewis Jr. NOLA Public Schools currently oversees 78 public schools. For more information, visit www.nolapublicschools.com. For updates, follow NOLA Public Schools on Facebook @NOLAPublicSchools, Instagram @nolaps and Twitter @NOLAPSchools.
.