Stanford University Study reports Orleans Parish Public Schools Achieving more Growth than State Average
New Orleans is the only city that outperformed its state in mathematics and reading for the majority of the years studied
NEW ORLEANS – (May 7, 2019) – This past week, Stanford University's Center for Research on Education Outcomes (CREDO) released their City Studies Project report, which identified New Orleans public school students' as achieving significantly more growth in reading and math than the state average. The report compared New Orleans to ten other cities across the country to examine the impact of the charter schools upon overall student academic performance.
Based on these findings, New Orleans is the only city that outperformed its state in both reading and math for the majority of years studied. In reading, New Orleans students experienced stronger learning gains in 2014-15, 2015-16, and 2016-17 compared to the Louisiana's average learning gains. In math, New Orleans students posted greater learning gains in 2014-15, similar progress in 2015-16, and stronger growth in 2016-17 compared to the state average.
"Our vision for the school district is that every student receives a high-quality education that fosters his or her individual capabilities," said Superintendent Dr. Henderson Lewis, Jr. "Thanks to the diligent work of our teachers and faculty, this is no longer just a vision – it's becoming our district's reality. Our goal in the next five years is to increase our students' math proficiency from 25 percent to 35 percent and reading proficiency from 34 percent to 45 percent as well as increase the share of students at or above grade level in reading and math. This study is evidence of our commitment to fulfill that goal and continue improving public education in New Orleans for all students and families."
Courtesy of New Schools for New Orleans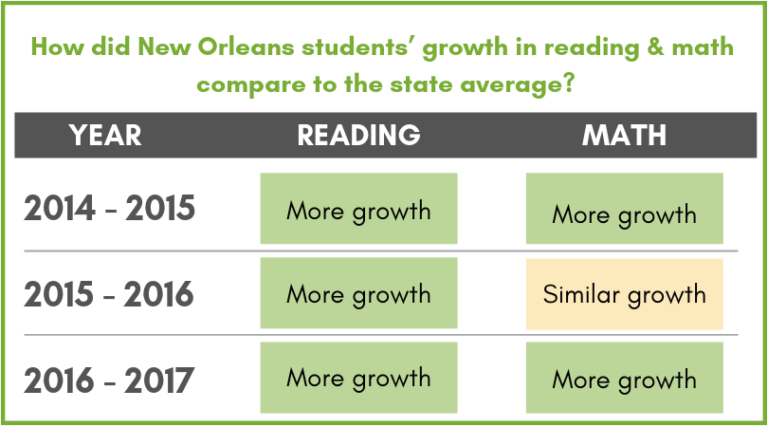 New Orleans is the only city that outperformed its state in mathematics and reading for the majority of
Additionally, the study found that New Orleans is also the only city where black students, students in poverty and students with disabilities outperformed their peers statewide in 2016 – 2017. In math, black students attending all types of New Orleans public schools grew more than the average for black students statewide. In reading, the yearly growth of black students was similar to the state average. Black students attending public charter schools in New Orleans, however, outperformed the state averages in both subjects; and over 90 percent of black public school students in New Orleans attended charters in 2016-17. In both reading and math, students living in poverty as well as students with disabilities academically surpassed the state in 2016-2017.
Courtesy of New Schools for New Orleans
the years studied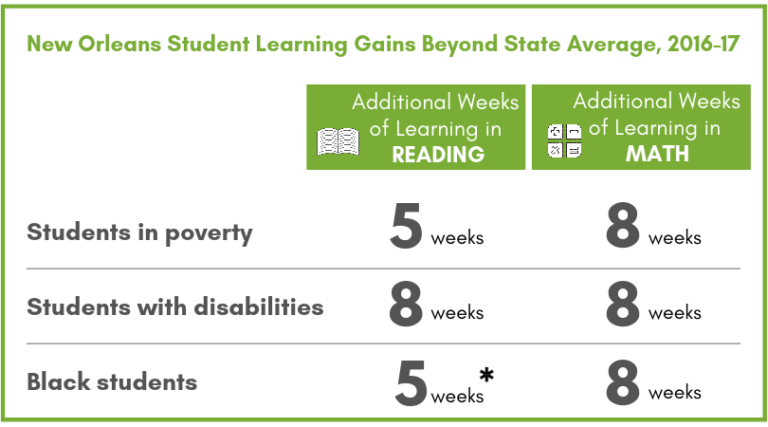 New Orleans is the only city that outperformed its state in mathematics and reading for the majority of
For each city CREDO studies, students' yearly academic growth is compared to average learning gains of the state in which the city is located, also outlined by subject (reading and math) and student subgroups, such as race and socioeconomic class.
For more information on CREDO's City Studies Project, click here.
To read the summary of findings on New Orleans, click here.
ABOUT OPSB: The OPSB currently oversees 79 public schools, including 75 charter schools, two direct-operated schools and a school with two educational programs for students in secure-care facilities. On July 1, all New Orleans public schools were unified under the oversight of the locally-elected Orleans Parish School Board for the first time since Hurricane Katrina.
For more information, visit www.opsb.us. For updates, follow OPSB on Facebook, Instagram @orleansparishschoolboard and Twitter @_OPSB.
Stay Informed
When you subscribe to the blog, we will send you an e-mail when there are new updates on the site so you wouldn't miss them.