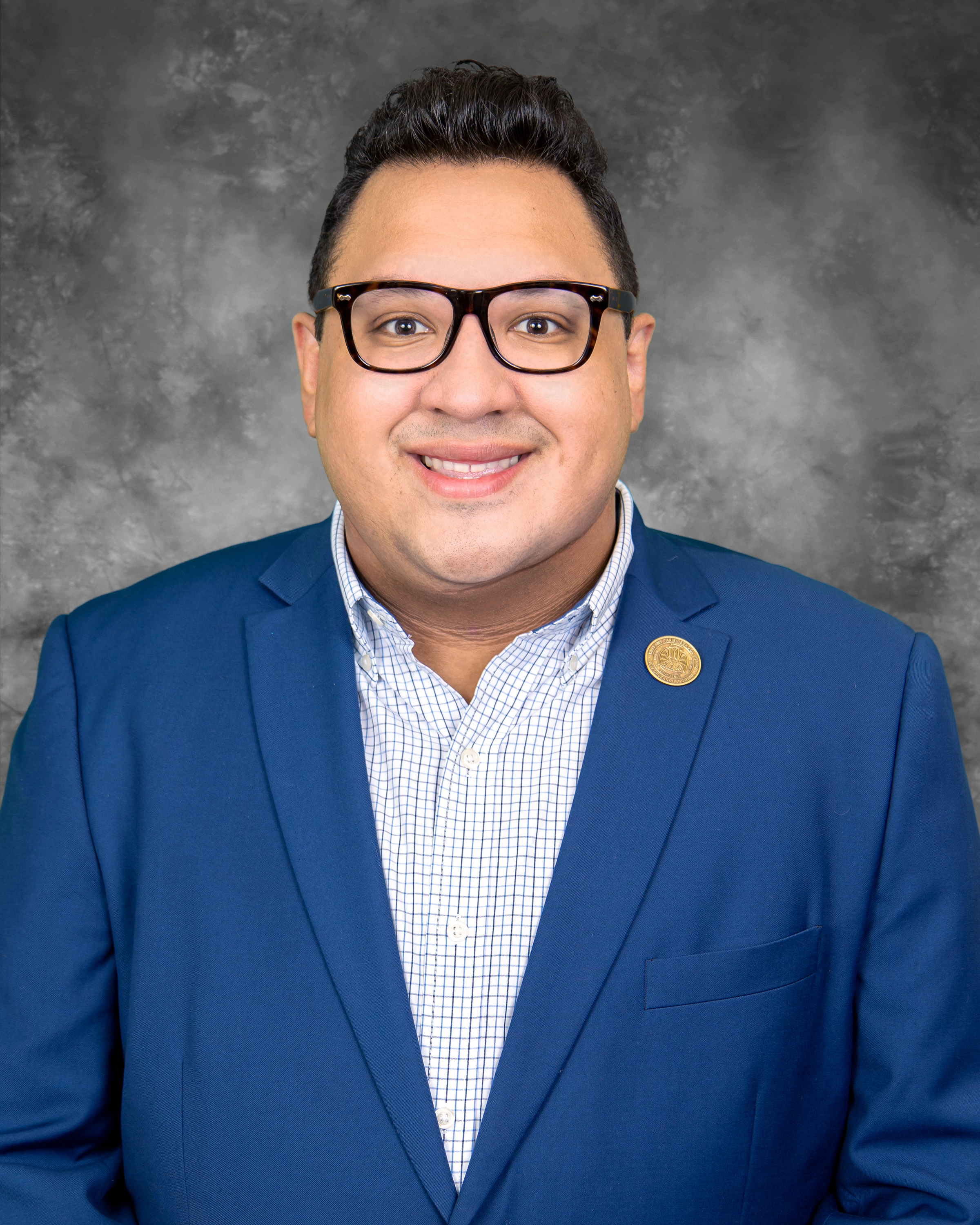 Dr.Jancarlos (J.C.) Wagner Romero
District 4
School Board Member Jancarlos "J.C." Wagner Romero is a native New Orleanian who has dedicated his entire adult career to the field of education. He was elected to serve the people of District 4 (covering parts of Algiers, the French Quarter, Marigny and Bywater) on December 5, 2020. A former high school dropout, raised by a single immigrant mother from Nicaragua, Dr. Romero understands the positive impact that a strong education can have on the life trajectory of a young person. He is deeply committed to working to ensure that education is the gateway for cultivating sustainable and socially just communities in the City of New Orleans.
Dr. Wagner Romero is a former school teacher who is passionate about providing students with the opportunities they need to succeed in school and beyond. He began his Orleans Parish teaching career in District 4 at Paul Habans Elementary School in Algiers. During his tenure as a teacher, Dr. Romero was honored as Teacher of the Year in 2015.
Dr. Wagner Romero is a former local and international school and network leader dedicated to cultivating the skills and capacity of educators. He has been recognized as a successful international school turnaround principal and continues to engage in critical educational issues as an adjunct professor of education and CEO and principal consultant of Romero Educational Strategies, LLC. He received his GED and A.A. degree in English Literature from Delgado Community College, B.A. in sociology from Northwestern State University, M.Ed. in curriculum and instruction from Northeastern University, and doctorate in educational practice from the University of Missouri-St. Louis.
Dr. Romero remains heavily engaged in the New Orleans community, serving on a variety of boards, including that of the Center for Racial Justice at Dillard University. He lives in Algiers with his husband, Alex Wagner-Romero, and their four dogs—Titi, Patches, Frankie Rue, and Jack.
Dr Jancarlos JC Wagner Romero District 4 Schools
| | | | |
| --- | --- | --- | --- |
| School Board District | School Board Member | School Name | Address |
| District 4 | Dr.Jancarlos (J.C.) Wagner Romero | Alice Harte Elementary School | 5300 Berkley Dr, 70131 |
| District 4 | Dr.Jancarlos (J.C.) Wagner Romero | ARISE Academy | 3819 St Claude Ave, 70117 |
| District 4 | Dr.Jancarlos (J.C.) Wagner Romero | Dwight D. Eisenhower Academy of Global Studies | 3700 Tall Pines Dr, 70131 |
| District 4 | Dr.Jancarlos (J.C.) Wagner Romero | Edna Karr High School | 4400 General Meyer Ave, 70131 |
| District 4 | Dr.Jancarlos (J.C.) Wagner Romero | Harriet Tubman Charter School | 2013 General Meyer Ave.,70114 |
| District 4 | Dr.Jancarlos (J.C.) Wagner Romero | Harriet Tubman Charter School-Montessori Campus | 2701 Lawrence St, 70114 |
| District 4 | Dr.Jancarlos (J.C.) Wagner Romero | Homer A. Plessy Community School French Quarter | 721 St Philip St, 70116 |
| District 4 | Dr.Jancarlos (J.C.) Wagner Romero | International School of LA: Olivier (Spanish) | 502 Olivier St, 70114 |
| District 4 | Dr.Jancarlos (J.C.) Wagner Romero | KIPP Leadership | 2300 St Claude Ave, 70117 |
| District 4 | Dr.Jancarlos (J.C.) Wagner Romero | Frederick Douglas | 3820 St Claude Ave, 70117 |
| District 4 | Dr.Jancarlos (J.C.) Wagner Romero | New Orleans Center for Creative Arts (NOCCA) | 2800 Chartres Street, 70117 |
| District 4 | Dr.Jancarlos (J.C.) Wagner Romero | Paul Habans Charter School | 3501 Seine St, 70114 |
| District 4 | Dr.Jancarlos (J.C.) Wagner Romero | Martin Behrman Charter School Academy of Creative Arts and Sciences | 2832 General Meyer Ave, 70114 |